For someone who travels constantly, a dryer can be very beneficial. Although some people think blow drying hair is a superfluous step in one's grooming routine, it is actually not. The dryer offers countless benefits. You will be able to dry your hair faster compared to using towels, it leaves your hair shiny and smooth, and it allows you to manage your hair easily. You have come to the right place if you are in the market for the best travel dryer to bring with you on your upcoming trip to Europe. We have rounded up some of the industry's best to save you the trouble.
If you don't have time to read the full article, here is our top pick. The best travel dryer for Europe with dual voltage capacity is the BabyBliss Pro BABNT053T Nano Titanium travel dryer. It has all the features you need to ensure that you have great hair wherever you are in the world, at a reasonable price.
What to Look for in the Best-Rated Travel Hair Dryers (Attachments, Settings, Size, Safety, Voltage)
Before you spend money on any travel-sized hair dryer, it is important to take a look at some factors that need to be considered. Who wants dry and frizzed hair while traveling to the most beautiful places in the world? Standard dryers are just too bulky to pack, so we need to look at options that are compact and that can keep your hair looking gorgeous. However, aside from being lightweight and easy to pack, what other important things do we need to consider?
Travel Hair Dryer Wattage
The higher the wattage of a travel dryer, the more heat it is able to produce and the quicker it will take for your hair to dry. Most hair types only require a wattage that is between 1300 and 1800. However, people with thicker hair require higher levels of wattage. On the other hand, people with damaged or dry hair should select the lowest heat settings.
Size
The fact that you are using the dryer for travel means size is one of the most important factors. You want a travel dryer that is light and compact and that easily fits in your carry-on so that you can easily take it with you wherever you go.
Technologies
Aside from power, there are also a few other things that you need to look for in a travel dryer.
Fast drying. Travel dryers with technology that produces high-velocity airflow are able to dry hair faster.
Temperature control. This protects your hair from damage due to overheating by monitoring the temperature and making adjustments when needed.
Noise reduction. Nobody likes a travel dryer that is noisy.
Cool touch. Look for a dryer equipped with technology that lets it stay cool to avoid burning your hands.
Infrared. This technology provides consistent heat that dries hair equally and prevents sections of your scalp from over-drying and overheating.
Accessories
Travel dryers with a variety of accessories are more appealing than those without. A few useful accessories are a built-in brush for handy drying and styling needs, diffusers to help separate and lift hair to boost its natural texture, and a nozzle to focus airflow for more precise styling. Do keep in mind, though, that travel dryers are small in size, so it might be rare to find one with all of the accessories.
Taking a Hair Dryer to Europe
Europe has been constantly on the list of places people want to go to, and for someone who wants well-styled hair wherever they go, a travel-sized hair dryer is a necessity. So, what voltage is a hair dryer in Europe?
Can I take my hair dryer to Europe?
Yes, you certainly can.
However, you must keep in mind that there is a difference between American and European voltage. So, it is important to buy a travel dryer that has dual voltage so that you will be able to use it both in the US and in Europe. Europe uses 220 volts, and the US normally uses 110 volts. This means that if you plug your hair dryer into an outlet in Europe with an adaptor but without a converter, sparks will fly!
What Does a Dual Voltage Hair Dryer Mean, and Why Do You Need It?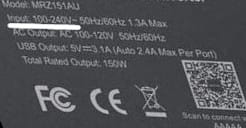 A dual voltage hair dryer can accept both 110-120V and 220-240V. This means that you will be able to use it in the United States, Europe, and most countries worldwide. Click here for a comprehensive list of worldwide AC voltages and frequencies. If you have a dual voltage hair dryer, you won't need a converter to use it in Europe. However, you will need an adapter to use your home country's plug in the socket of the visiting country. In simple terms, the adapter makes your hair dryer fit in the holes. It doesn't change the electric power going into your device.
If you don't want to buy dual voltage dryer, buy a 220V > 110V Converter and adapter.
How Do I Know if My Hair Dryer is Dual Voltage?
Knowing if your hair dryer is dual voltage or not is quite easy. The voltage rating is on the rating plate. This is usually a small, flat plate located on the back or the bottom of the product. If it says 110V/240V, it means it's dual voltage. Some hair dryers also have switches that you can flip to change the voltage. If you cannot find the plate, or if you are still unsure, it is best to review the instruction booklet.
Is a Dyson Hair Dryer Dual Voltage?
No, the Dyson hair dryer is not dual voltage. The American model is 110-120V while the European model is 230-240V. If you would like to use the Dyson hair dryer while traveling, you need to buy a converter as well as an adapter. The converter will convert the voltage to 110 to 220 or vice versa, and the adapter will ensure that you can plug the hair dryer into the socket.
What are the best travel-sized hair dryers with dual voltage?
If you are constantly moving from one place to another but want Instagram-worthy pictures taken with you looking sharp and styled all the time, your luggage must have a travel-sized hair dryer. Without one, it is difficult to look your absolute best. From a simple blow dry to creating intense volume in just a few minutes, these dual voltage dryers can be used worldwide. We have rounded up our top picks here.
BabyBliss Pro BABNT053T Nano Titanium Travel Dryer
A world leader in professional styling tools, BabyBliss has come up with our top pick travel-sized hair dryer, the BABNT053T Nano Titanium Travel Dryer. This dual voltage dryer is ultra-light, powerful, and compact enough to style your hair while you explore the most beautiful places in the world. It can be used anywhere on the globe with the turn of a button so that the voltage is changed from 110V to 250V.
It uses millions of natural ions to get rid of static electricity. It also uses far-infrared technology heat to protect your hair from damage. This dryer also boasts plenty of accessories, such as two heat and speed settings, a removable rear filter, a folding handle, a stand so that you can clean it easily, and a concentrator nozzle. This gets our vote for being the overall top dryer, and it has also gotten good feedback from a lot of travelers.
Hot Tools HT1044
This compact travel dryer comes with a wealth of accessories so that you will always look ready for pictures wherever you go. It not only dries your hair but also helps condition it and makes it smooth and shiny. It features powerful airflow, universal dual voltage, a concentrator that focuses the powerful airflow section-by-section, two heat and speed settings for extra styling control, and a finger diffuser that adds gorgeous volume to your hair.
Additionally, the cool shot feature allows you to hold the dryer without the fear of burning your hands. This baby may be 25% lighter than most, but it is just as powerful. The diffuser alone sets it apart from others, and if you have curly hair, that's all the more reason that you should take it.
Conair Compact Hair Dryer with Folding Handle
Perfect for small storage spaces, the Conair compact hair dryer comes with a folding handle for easy portability and storage. It features quick and powerful settings for a variety of hair types and a cool shot button that helps lock curls, style, and waves in place.
Don't let the size fool you; this dryer is small but is able to do big things. It is backed by 1875 watts of pure power with dual voltage that allows you to use it anywhere in the world. Easy to pack and easy to use, it is the perfect companion for any traveler. So, if your first consideration is the size, this is the one you should go for.
Conair All-in-One Men's Grooming Tools Gift Set
Who says men do not need a travel-sized hair dryer? This all-in-one grooming set is the best hair dryer for males who would like to keep their hair in top shape even when traveling. It comes in a full-sized travel bag with an extra styling comb and styling brush thrown in. This 1600-watt compact hair dryer comes with a folding handle, two heat and speed settings, and dual voltage, so you can use wherever you go.
The best thing about this travel-sized hair dryer is that it is specially created for men. It comes with an all-purpose 20mm trimmer that boasts of a multi-use handle, so it can be used to trim the ears, nose, eyebrows, sideburns, and even the body. The bonus styling brush is ideal for detangling, smoothing your hair on the go, and tidying, and the styling comb is ideal for all styles, sizes, and lengths.
Conair 1875 Watt Compact Folding Hair Dryer
Not everyone has money to splurge on a travel hair dryer, and the Conair 1875 compact folding hair dryer is the perfect solution for that. This is the best travel-sized hair dryer for people who are on a budget. The folding handle enables the user to easily store it away and makes it conveniently transportable. It may be small, but it features a full 1875 watts of power for fast drying and easy styling.
There are two speed and heat settings for styling versatility and a cool shot button that locks in your finished style. The dual voltage allows you to use it at home and abroad. If you are looking for value on a tight budget, this is what we recommend.
Is Conair Hair Dryer Dual Voltage?
Most Conair hair dryers and styling irons are dual voltage (110V-240V). They need nothing more than an adapter plug that is specific to the outlets in the countries where you will be going. However, it is best to look for the voltage rating on your appliance.
Drybar Baby Buttercup Blow Dryer
Being able to store your travel dryer in its own bag is a plus, and with the Drybar Baby Buttercup Blow Dryer, you will be able to do just that. Regardless of whether your hair is curly, wavy, straight, coiled, or tightly coiled, this dryer works for all hair types. It folds easily and weighs less than a pound, so you won't have problems packing it in your carry-on or luggage. It features ionic technology, which helps reduce frizz, increases shine, and dramatically decreases drying time.
The powerful motor comes with two heat settings and temperature settings, while the cool shot button locks in your preferred style. The best thing about this model is that it comes with a cute "I'm Full of Hot Air!" travel bag that protects it from scrapes and scruffs.
Pin the below image to save it for later.